Wedding Ceremonies
Knowing where to start can seem a bit daunting ...

Maybe you've decided your Wedding Ceremony is going to be simple, elaborate, traditional or personalised.  Maybe you have no idea at all where to begin?  Don't panic … this is all quite normal!  I'm here to help guide you in the right direction.  
My ceremonies are written in a way, you needn't worry about when to do, say or take anything ... everything is prompted!
Celebrant Offering
To start, we meet or share a phone call to discuss your ideas and thoughts.  We will also discuss the legalities, logistics and answer any questions the two of you might have. 
I've seen so many amazing Ceremonies over the years and have a good idea on what works.  If you want any advice, please just ask.  You may want to know ...
How much does a Celebrant cost?
How long does the Celebrant stay for?
Fun ideas for a Ceremony?
Once you've booked your date by deposit, l'll email you an information booklet, or as I like to call it 'wedding homework'.  This has loads of helpful examples and resource material on what you might like to include in your Ceremony.  You can use them ... or perhaps they'll help you to create, find or write your own - google is your friend! 

I also send you a questionnaire.  It has around 30 questions in it. Your answers help me to structure and write a Ceremony based on your needs, to suit your special day and your unique story. 
Once I have written your draft, I send it back to you for editing, so you have no unwanted surprises on the day.
Email me now to see if I'm available on your date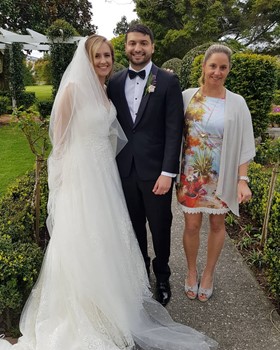 Writing Your Own Vows
For some people, this seems quite hard.  We're not all writers after all!  Here's a simple tip ... grab pen and paper.  Write down all the things you love about each other.  They don't have to make rhyme or reason, they just have to make sense.  Get creative!  Personalised vows are very special. If you need help, again please ask.  Phone me on 021 998 655 to discuss.


On The Day
I arrive at least half an hour early. I'll coordinate with the venue manager, musicians, wait staff and anyone else necessary on the day.  I'm there to provide help and support, so you don't need to worry about A THING!  
Once I have the guests ready and the groomsmen calm and looking fabulous in their line - I'll come to meet you when you arrive.  I'll remind your bridal party to smile and answer any last minute questions.

Then ... it's show time!  Let's do this!


Queenstown Weddings
I love a good Queenstown wedding.  Having lived there in 1998 - 2000, I still like to refer to the Lakes District as my second home.  

My rates are super affordable, just ask!